Answer
Sepsis is a systemic response to infection. It is identical to SIRS, except that it must result specifically from infection rather than from any of the noninfectious insults that may also cause SIRS (see the image below). That sepsis and SIRS are phenotypically similar underscores a common inflammatory pathway causing both.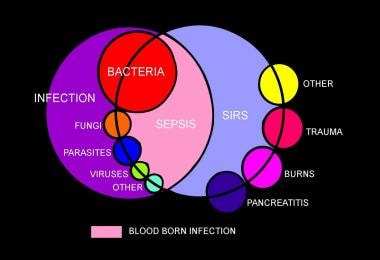 Venn diagram showing overlap of infection, bacteremia, sepsis, systemic inflammatory response syndrome (SIRS), and multiorgan dysfunction.
---
Did this answer your question?
Additional feedback? (Optional)
Thank you for your feedback!