Answer
Sepsis is a clinical syndrome that complicates severe infection and is characterized by systemic inflammation and widespread tissue injury. A continuum of severity from sepsis to septic shock and MODS exists. The clinical process usually begins with infection, which potentially leads to sepsis and organ dysfunction. [2] A consensus panel of the American College of Chest Physicians and the Society of Critical Care Medicine developed definitions of the various stages of this process (see the image below). [3]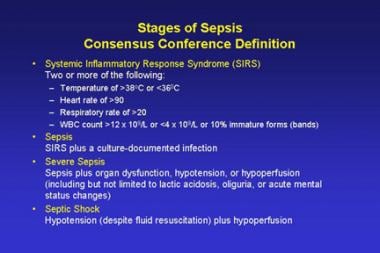 Stages of sepsis based on American College of Chest Physicians/Society of Critical Care Medicine Consensus Panel guidelines.
Infection is usually a microbial phenomenon in which an inflammatory response to the presence of microorganisms or the invasion of normally sterile host tissue by these organisms is characteristic. However, viral infections can be indistinguishable from bacteria infections in their presentation.
Bacteremia is the presence of viable bacteria in the blood.
---
Did this answer your question?
Additional feedback? (Optional)
Thank you for your feedback!