Answer
There is consensus that the crotalid-envenomated limb should be elevated once the patient has arrived at the hospital. This prevents the venom from accumulating in the extremity and reduces the hydrostatic pressures that can exacerbate tissue swelling. The authors recommend using plaster to prevent the extremity from bending, but it is important to splint loosely; there should be no constriction and no obstruction to lymphatic flow.
Coral snake envenomations are not associated with tissue injury, and patients should be allowed to maintain a position of comfort.
Pictured below is proper elevation of an affected extremity. Notice that this is loosely applied so there is no obstruction to lymphatic flow.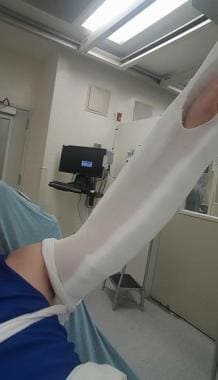 Proper elevation of upper extremity bite. Courtesy of Spencer Greene, MD.
---
Did this answer your question?
Additional feedback? (Optional)
Thank you for your feedback!