Answer
Crotalid envenomation can cause local, systemic, and hematologic toxicity. Antivenom can minimize the local tissue damage but cannot reverse tissue death. Fortunately, many of the local effects are superficial and heal over time.
In the image below is an example of superficial tissue necrosis following copperhead envenomation. The patient improved completely within 1 week.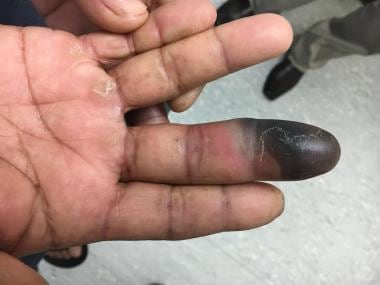 Superficial necrosis following copperhead envenomation. Courtesy of Spencer Greene, MD.
Infection is uncommon, so antibiotics should not be administered prophylactically. [34] Infection is seen in less than 5% of snake envenomations, and typically only in patients with significant tissue necrosis. [35, 36] Broad-spectrum antibiotics should be administered in these cases.
The biggest local complication of crotalid envenomation is prolonged, and sometimes permanent, swelling and loss of limb function, particularly following exertion. Timely administration of antivenom can significantly reduce the incidence of this disability. In a study of patients with crotalid envenomations in Kentucky, patients who did not receive antivenom lost an average of 14 days from work. [37] Patients with bites to the hand or finger had reduced strength that persisted for a mean of 22 days. Poorly healing wounds took an average of 45 days to heal, with some wounds persisting for 77 days. Additionally, many patients developed recurrent pain and swelling in their hands after normal usage for an average of 1 month. In a study conducted in the Carolinas, the mean duration of disability following mild copperhead envenomation was 42 days, and some subjects had persistent disability at 1 year at the conclusion of the study. [38] Anecdotally, many patients with envenomations that were not treated with antivenom have reported significant postexertional pain and swelling that interferes with activities of daily living.
Delayed and recurrent hematotoxicity is a frequent complication of pit viper snakebite. The mechanism(s) responsible for these phenomena has been debated, but some patients may develop coagulopathy and/or thrombocytopenia up to 2 weeks after envenomation. In a study of rattlesnake bite patients, 24% had late hematotoxicity. In a study of high-risk snakebite victims, late coagulopathy was present in 32% of subjects.
Below is a image of petechiae that developed 1 week after a black-tailed rattlesnake envenomation that was treated with FabAV.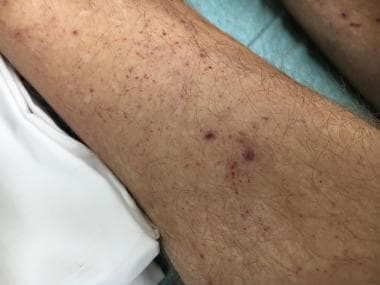 Petechiae 1 week after being treated for black-tailed rattlesnake (Crotalus molossus) envenomation; platelet count = 2,000 (reference range 150,000-450,000). Courtesy of Daniel Jarvis.
Prolonged neuromuscular blockade may occur following coral snake envenomation in which antivenom is not administered in a timely fashion.
Also see Complications in the Treatment section.
---
Did this answer your question?
Additional feedback? (Optional)
Thank you for your feedback!