Answer
Assess the patency of the patient's airway and the adequacy of oxygenation and ventilation. Ensure the patient has adequate perfusion.
Document a complete set of vital signs and reassess frequently.
Assess for local damage. Crotalid envenomations are characterized by swelling, tenderness, and bruising. Hemorrhagic blebs may develop over several hours. Fang marks may be obscured by swelling, or there may be one, two, or more punctures. A larger distance between fang puncture wounds suggest a bite by a larger snake. However, smaller distances between fang marks may not represent smaller snakes because crotalid fangs are highly mobile. Patients generally report significant pain, which is often described as "being struck by a hammer". It is important to assess the progression of the damage serially; snakebites are a dynamic process and patients with minimal findings initially may have significant swelling within a few hours.
The local findings from coral snake envenomation are much more subtle. Fang marks may or may not be visible. Some swelling and erythema may be present, but significant bruising is conspicuously absent. Patients may report a "burning" or "electric" pain.
Systemic toxicity following crotalid envenomation may include nonspecific signs and symptoms such as nausea, headache, and lightheadedness. More significant features include hypotension, airway swelling, and refractory vomiting. [20, 21, 22, 23] Hematologic laboratory abnormalities are common, and bleeding is seen in approximately 0.9% of patients. [24, 25, 26, 27] Examine the patient for petechiae, epistaxis, gingival bleeding, and other mucosal bleeding.
Neurological toxicity is not associated with most crotalid envenomations, but envenomations from some species (eg, Mojave rattlesnake [C scutulatus], Southern Pacific rattlesnake [C o halleri]) may result in significant weakness and other neurological abnormalities. [28, 29, 30, 31]
Coral snake envenomation may also be associated with nonspecific systemic symptoms, but the hallmark of coral snake envenomation is neurological toxicity, which may be as subtle as local paresthesias and myokymia or as severe as skeletal and respiratory muscle paralysis. Other signs and symptoms may include diplopia, hyperacusis, odontalgia, ageusia, ptosis, ophthalmoplegia, hypersalivation, and dysphagia. [32, 33]
A typical presentation of crotalid envenomation to foot is shown in the image below.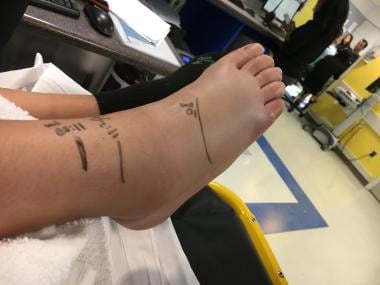 Swelling and bruising after crotalid envenomation. Courtesy of Spencer Greene, MD.
A hemorrhagic bleb following copperhead envenomation is shown in the image below.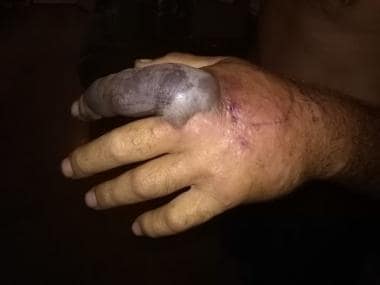 Hemorrhagic bleb following Eastern copperhead (Agkistrodon contortrix) envenomation. Courtesy of Spencer Greene, MD.
The image below shows local effects in a toddler following rattlesnake envenomation.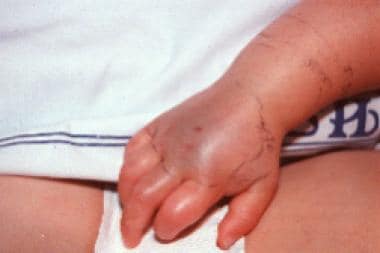 Moderate rattlesnake envenomation in a toddler after treatment with antivenom. Courtesy of Sean Bush, MD.
The three images below show effects from a severe copperhead bite.
---
Did this answer your question?
Additional feedback? (Optional)
Thank you for your feedback!