Answer
There are three species of coral snakes in the United States. The Sonoran coral snake, Micruroides euryxanthus euryxanthus, is found in Arizona and western New Mexico. The Texas coral snake, Micrurus tener, is found in Texas, Louisiana, and Arkansas. The Eastern coral snake, Micrurus fulvius, is confined to the Southeastern United States as far north as North Carolina and as far west as Mississippi. The rhyme "red on yellow, kill a fellow; red on black, venom lack" is commonly used to distinguish coral snakes from nonvenomous species, but there are many exceptions. Some native coral snakes have aberrant patterns that do not adhere to the rule, and nonnative coral snakes may have completely different coloration. Conversely, there are nonvenomous snakes such as the shovel-nosed snakes (genus Chionactis) in which "red touches yellow". It is best to look at a combination of features, including head shape, body habitus, and coloration, to make a snake identification. When in doubt, it is prudent to assume a snake is venomous and leave it alone.
See the images below.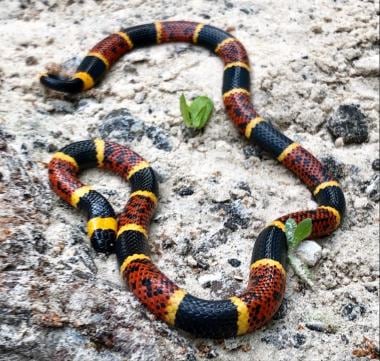 Texas coral snake, Micrurus tener. Courtesy of Chip St. John.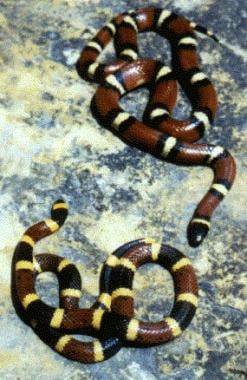 Comparison of the harmless Mexican milksnake, Lampropeltis triangulum annulata (top) with the Texas coral snake, Micrurus tener (bottom). Courtesy of Charles Alfaro.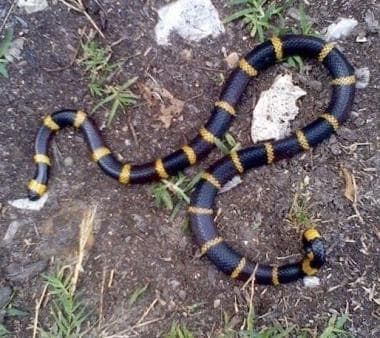 Aberrant Texas coral snake, Micrurus tener. Courtesy of Reece Hammock.
---
Did this answer your question?
Additional feedback? (Optional)
Thank you for your feedback!