Answer
Crotalids are characterized by large, triangular heads, comparatively small eyes, large and retractable fangs, and a thermoreceptor "pit" located between the eye and the nostril. Pit vipers also have a single row of subcaudal plates distal to the anus, and rattlesnakes have one or more keratin buttons that compose the "rattle" at the distal end. Although some references recommend using the pupil shape as a way of distinguishing a pit vipers from noncrotalids, it should be noted that all snakes can have round or elliptical pupils, depending on the amount of ambient light. Additionally, many nonvenomous snakes can flatten their heads into a triangle shape when they feel threatened. Experts recommend that people learn to recognize the venomous species in their vicinity rather than rely on mnemonics.
See the images below.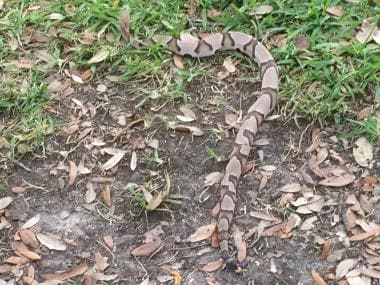 Eastern copperhead, Agkistrodon contortrix. Courtesy of Spencer Greene, MD.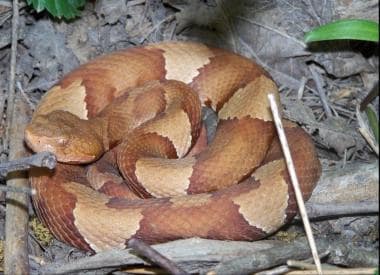 Broad-banded copperhead, Agkistrodon laticinctus. Courtesy of Kimberly Wyatt.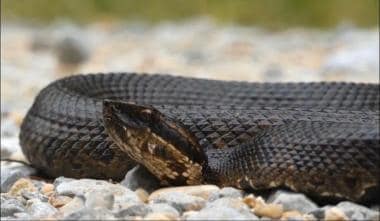 Western cottonmouth, Agkistrodon piscivorus leucostoma. Courtesy of Kimberly Wyatt.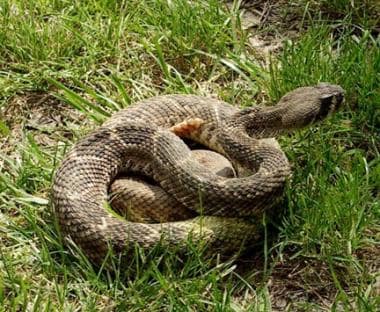 Western diamondback rattlesnake, Crotalus atrox.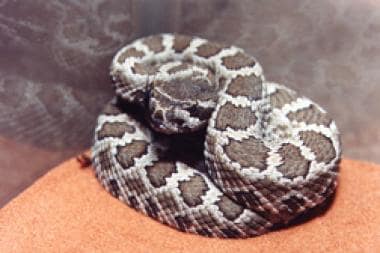 Juvenile southern Pacific rattlesnake, Crotalus oreganus helleri. Courtesy of Sean Bush, MD.
---
Did this answer your question?
Additional feedback? (Optional)
Thank you for your feedback!