Answer
Because most patients who present with sepsis have pneumonia, and because the clinical examination is unreliable for the detection of pneumonia (especially in elderly patients), a chest radiograph is warranted. Chest radiography detects infiltrates in about 5% of febrile adults without localizing signs of infection; accordingly, it should be routine in adults who are febrile without localizing symptoms or signs and in patients who are febrile with neutropenia and without pulmonary symptoms.
Chest radiography is useful in detecting radiographic evidence of ARDS (see the images below), which carries a high mortality. The discovery of such evidence on a chest radiograph should prompt consideration of early intubation and mechanical ventilation, even if the patient has not yet shown signs of overt respiratory distress.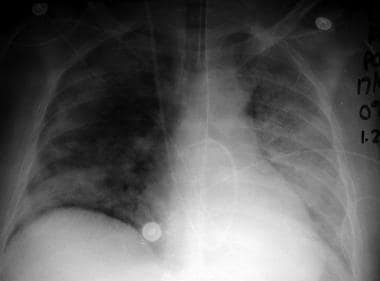 Acute respiratory distress syndrome (ARDS) in a patient who developed septic shock secondary to toxic shock syndrome.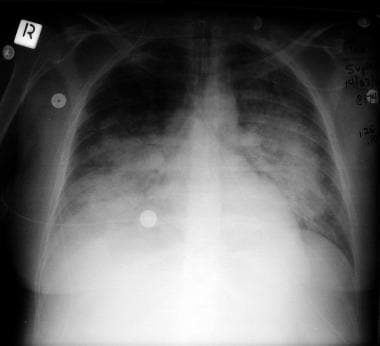 Bilateral airspace disease and acute respiratory failure in a patient with gram-negative septic shock. The source of the sepsis was urosepsis.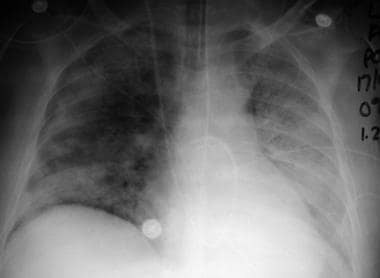 A 45-year-old woman was admitted to the intensive care unit with septic shock secondary to spontaneous biliary peritonitis. She subsequently developed acute respiratory distress syndrome (ARDS) and multiorgan failure.
---
Did this answer your question?
Additional feedback? (Optional)
Thank you for your feedback!