Answer
Risk factors for sepsis and septic shock include the following:
Extremes of age (70 years)

Primary diseases (eg, liver cirrhosis, alcoholism, diabetes mellitus, cardiopulmonary diseases, solid malignancy, and hematologic malignancy)

Immunosuppression (eg, from neutropenia, immunosuppressive therapy [eg, in organ and bone marrow transplant recipients], corticosteroid therapy, injection or IV drug use [see the image below], complement deficiencies, asplenia)

Major surgery, trauma, burns

Invasive procedures (eg, placement of catheters, intravascular devices, prosthetic devices, hemodialysis and peritoneal dialysis catheters, or endotracheal tubes)

Previous antibiotic treatment

Prolonged hospitalization

Underlying genetic susceptibility

Other factors (eg, childbirth, abortion, and malnutrition)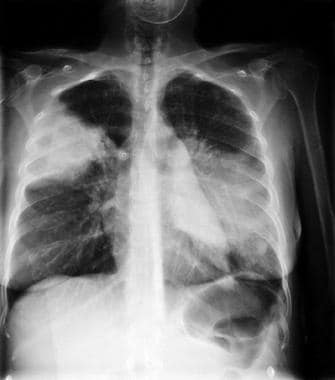 A 28-year-old woman who was a former intravenous drug user (human immunodeficiency virus [HIV] status: negative) developed septic shock secondary to bilateral pneumococcal pneumonia.
---
Did this answer your question?
Additional feedback? (Optional)
Thank you for your feedback!