Answer
The pathophysiology of septic shock is not precisely understood but is considered to involve a complex interaction between the pathogen and the host's immune system (see the image below). The normal physiologic response to localized infection includes activation of host defense mechanisms that result in the influx of activated neutrophils and monocytes, release of inflammatory mediators, local vasodilation, increased endothelial permeability, and activation of coagulation pathways.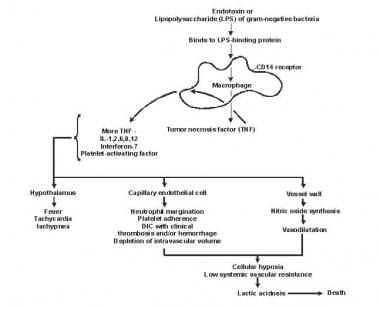 Diagram depicting the pathogenesis of sepsis and multiorgan failure. DIC = disseminated intravascular coagulation; IL = interleukin.
These response mechanisms occur during septic shock, but on a systemic scale, leading to diffuse endothelial disruption, vascular permeability, vasodilation, and thrombosis of end-organ capillaries. Endothelial damage itself can further activate inflammatory and coagulation cascades, creating, in effect, a positive feedback loop and leading to further endothelial and end-organ damage.
---
Did this answer your question?
Additional feedback? (Optional)
Thank you for your feedback!