Answer
Criteria for SIRS are considered to be met if at least 2 of the following 4 clinical findings are present:
Temperature higher than 38°C (100.4°F) or lower than 36°C (96.8°F)

Heart rate (HR) higher than 90 beats/min

Respiratory rate (RR) higher than 20 breaths/min or arterial carbon dioxide tension (PaCO2) lower than 32 mm Hg

White blood cell (WBC) count higher than 12,000/µL or lower than 4000/µL or with 10% immature (band) forms
Note that a patient can have a severe infection without meeting SIRS criteria; conversely, SIRS criteria may be present in the setting of many other illnesses not caused by an infectious process (see the image below).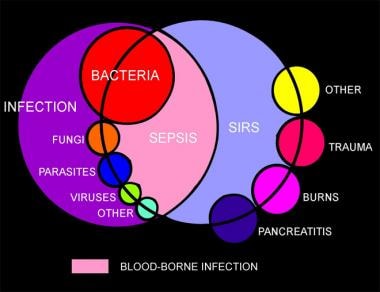 Venn diagram showing the overlap of infection, bacteremia, sepsis, systemic inflammatory response syndrome (SIRS), and multiorgan dysfunction.
---
Did this answer your question?
Additional feedback? (Optional)
Thank you for your feedback!