Answer
Serious bacterial infections at any site in the body (see the image below), with or without bacteremia, are usually associated with important changes in the function of every organ system in the body. These changes are mediated mostly by elements of the host immune system against infection. Shock is deemed present when volume replacement fails to increase blood pressure to acceptable levels and when associated clinical evidence indicates inadequate perfusion of major organ systems, with progressive failure of organ system functions. Although hyperlactecemia is commonly seen in sepsis, its relationship to hypoperfusion is questionable and is more often due to the acute inflammatory state, impaired lactate clearance, and nonoxidative phosphorylation lactate production.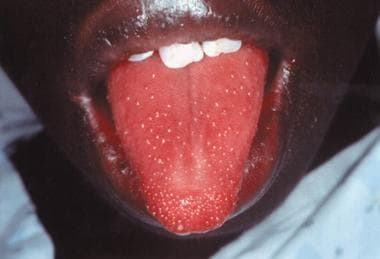 Strawberry tongue in a child with staphylococcal toxic shock syndrome. Reproduced with permission from Drage, LE. Life-threatening rashes: dermatologic signs of four infectious diseases. Mayo Clin Proc. 1999;74:68-72.
Multiple organ dysfunctions, the extreme end of the continuum, are incremental degrees of physiologic derangements in individual organs (ie, processes rather than events). Alteration in organ function can vary widely, ranging from a mild degree of organ dysfunction to frank organ failure. (See Multiple Organ Failure of Sepsis, Systemic Inflammatory Response Syndrome (SIRS), Toxic Shock Syndrome, and Septic Thrombophlebitis .)
This article does not cover sepsis of the neonate or infant. Special consideration must be given to neonates, infants, and small children with regard to fluid resuscitation, appropriate antibiotic coverage, intravenous (IV) access, and vasopressor therapy. (See Neonatal Sepsis, Pediatric Sepsis, Treatment of Sepsis and Septic Shock in Children, Shock in Pediatrics, and Shock and Hypotension in the Newborn.)
---
Did this answer your question?
Additional feedback? (Optional)
Thank you for your feedback!