Answer
Almost all of these lethal scorpions, except the Hemiscorpius species, belong to the scorpion family called the Buthidae. The Buthidae family is characterized by a triangular-shaped sternum, as opposed to the pentagonal-shaped sternum found in the other 5 scorpion families.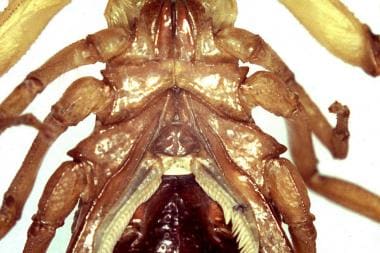 Scorpions from the family Buthidae (which includes almost all of the potentially lethal scorpions) generally can be identified by the triangular sternal plate. In other families of scorpions, this feature is more square or pentagonal. Photo by Sean Bush, MD.
In addition to the triangular-shaped sternum, venomous scorpions also tend to have weak-looking pincers, thin bodies, and thick tails, as opposed to the strong heavy pincers, thick bodies, and thin tails seen in nonlethal scorpions.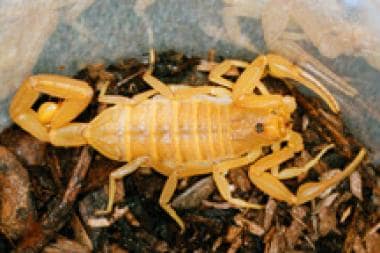 Centruroides species. Note the slender pincers generally characteristic of scorpions from the family Buthidae. Photo by Sean Bush, MD.
---
Did this answer your question?
Additional feedback? (Optional)
Thank you for your feedback!