Answer
A scorpion has a flattened elongated body and can easily hide in cracks. It has 4 pairs of legs, a pair of claws, and a segmented tail that has a venomous spike at the end. Scorpions vary in size from 1-20 cm in length.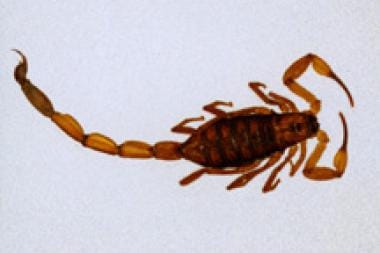 Centruroides limbatus, identified by Scott Stockwell, PhD. A small barb at the base of the stinger may be helpful in identifying Centruroides or Tityus species, although its presence is variable. Photo by Sean Bush, MD.
See Arthropod Envenomation: From Benign Bites to Serious Stings, a Critical Images slideshow, for help identifying and treating various envenomations.
---
Did this answer your question?
Additional feedback? (Optional)
Thank you for your feedback!