Answer
Application of PEEP sufficient to raise the tidal volume above the lower inflection point (Pflex) on the pressure-volume curve may minimize alveolar wall stress and improve oxygenation. A pressure-volume curve can be constructed for an individual patient by measuring plateau pressures at different lung volumes (see the image below). Pflex is the point where the slope of the curve changes, indicating that the lung is operating at the most compliant part of the curve.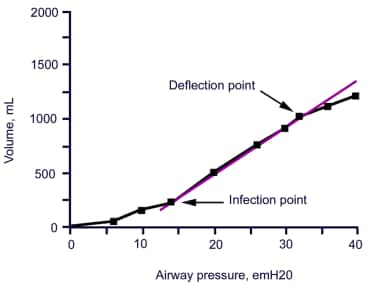 Pressure-volume curve of a patient with acute respiratory distress syndrome (ARDS) on mechanical ventilation can be constructed. The lower and the upper ends of the curve are flat, and the central portion is straight (where the lungs are most compliant). For optimal mechanical ventilation, patients with ARDS should be kept between the inflection and the deflection point.
---
Did this answer your question?
Additional feedback? (Optional)
Thank you for your feedback!