Answer
Two flow patterns are used commonly: (1) a constant-flow (ie, square-wave) pattern (see the image below) and (2) a decelerating-flow pattern. With a constant-flow pattern, inspiratory flow is held constant throughout the breath, whereas with a decelerating-flow pattern, flow rises quickly to a maximal value and then decreases progressively throughout the breath.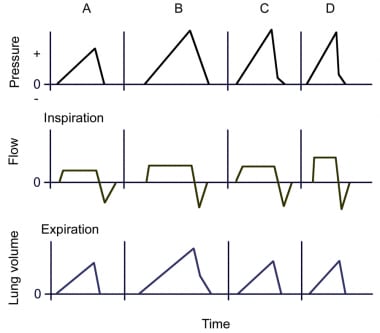 Wave forms of a volume-targeted ventilator: Pressure, flow, and volume waveforms are shown with square-wave flow pattern. A is baseline, B is increase in tidal volume, C is reduced lung compliance, and D is increase in flow rate. All 3 settings lead to increase in peak airway pressures. Adapted from Spearman CB et al.
---
Did this answer your question?
Additional feedback? (Optional)
Thank you for your feedback!