Answer
Chest radiography is essential in the evaluation of respiratory failure because it frequently reveals the cause (see the images below). However, distinguishing between cardiogenic and noncardiogenic pulmonary edema is often difficult. Increased heart size, vascular redistribution, peribronchial cuffing, pleural effusions, septal lines, and perihilar bat-wing distribution of infiltrates suggest hydrostatic edema; the lack of these findings suggests acute respiratory distress syndrome (ARDS).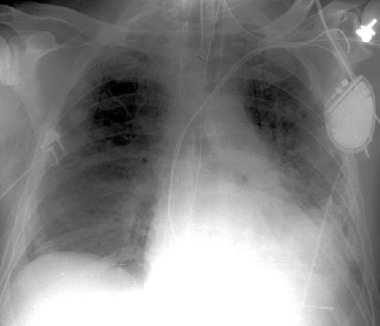 Bilateral airspace infiltrates on chest radiograph film secondary to acute respiratory distress syndrome that resulted in respiratory failure.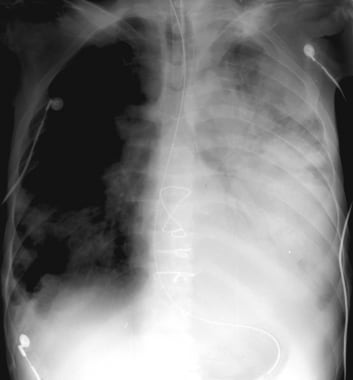 Extensive left-lung pneumonia caused respiratory failure; the mechanism of hypoxia is intrapulmonary shunting.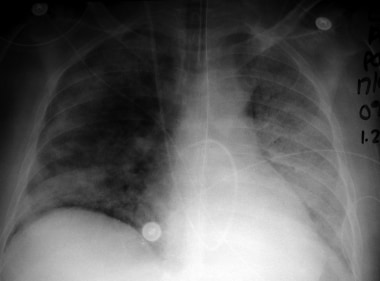 A 44-year-old woman developed acute respiratory failure and diffuse bilateral infiltrates. She met the clinical criteria for the diagnosis of acute respiratory distress syndrome. In this case, the likely cause was urosepsis.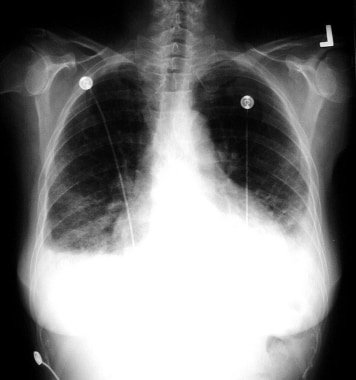 This patient developed acute respiratory failure that turned out to be the initial presentation of systemic lupus erythematosus. The lung pathology evidence of diffuse alveolar damage is the characteristic lesion of acute lupus pneumonitis.
---
Did this answer your question?
Additional feedback? (Optional)
Thank you for your feedback!