Answer
Answer
Breast medical oncologists use the information provided by pathologists to make decisions about systemic therapy. The image below provides an example of a schematic representation of a decision tree used by medical oncologists when deciding whether to administer systemic therapy and/or which systemic therapy to recommend to a patient.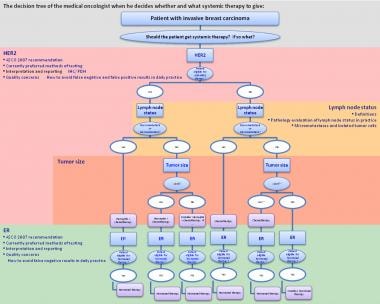 The flow chart shows the idealized decision making process of the medical oncologist when deciding whether and what systemic therapy to give. Remember that the decision to give a specific systemic therapy to an individual patient is based on the expected benefit as compared with the possible risks in each individual patient. The blue text provides links to the text below explaining the role of the pathologist in providing the necessary information to make these decisions. * The cut off is 2 cm for pure mucinous carcinomas. **OncotypeDX can help decisions in patients with tumors between 1 and 2 cm.
Providing an easy-to-read summary or synoptic report, including the key prognostic and predictive factors, is particularly helpful to the medical oncologist. Although many of the pathology elements are continuous variables, clinical decisions are not. Being aware of the critical factors that influence decisions in a particular patient when evaluating a specimen is important for pathologists. Medical oncologists should be knowledgeable about sources of controversy and should look for potential pitfalls in the pathology report. Tumor size, grade, axillary lymph node status, steroid hormone receptor status, and human epidermal growth factor receptor 2 (HER2)/neu overexpression are the factors that most commonly influence treatment decisions and are discussed in detail below.
---
Did this answer your question?
Additional feedback? (Optional)
Thank you for your feedback!