Answer
Albumin, the body's predominant serum-binding protein, has several important functions.
Albumin comprises 75-80% of normal plasma colloid oncotic pressure and 50% of protein content. When plasma proteins, especially albumin, no longer sustain sufficient colloid osmotic pressure to counterbalance hydrostatic pressure, edema develops. Although primarily in the intravascular space, albumin has a major trafficking function through the interstitium and lymphatics.
Albumin transports various substances, including bilirubin, fatty acids, metals, ions, hormones, and exogenous drugs. One consequence of hypoalbuminemia is that drugs that are usually protein bound are free in the plasma, allowing for higher drug levels, more rapid hepatic metabolism, or both.
Alterations in albumin level affect platelet function.
See the image below.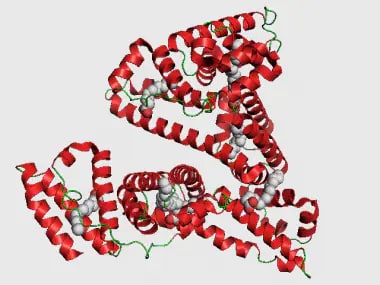 Albumin.
---
Did this answer your question?
Additional feedback? (Optional)
Thank you for your feedback!