Answer
Chest radiography is indicated if the patient remains hypoxic. A chest radiograph may help diagnose many of the pulmonary complications of heroin poisoning, including noncardiogenic pulmonary edema (depicted in the radiograph below), aspiration pneumonitis, atelectasis, and other complications of drug use such as pneumothorax, pneumomediastinum, pneumoperitoneum, septic pulmonary emboli, fungal infections, and aspiration pneumonia.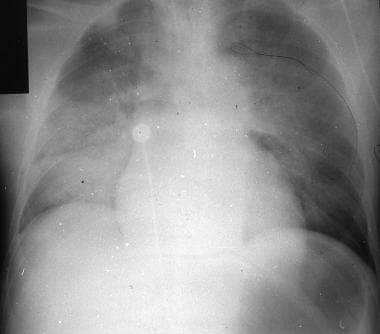 Heroin-related noncardiogenic pulmonary edema.
Adulterants may also cause pulmonary abnormalities. Talc, for example, causes granulomatosis and thrombosis of small pulmonary vessels and may appear as a reticulonodular pattern. Long-term talc exposure may also result in pulmonary hypertension.
Abdominal radiographs are helpful in demonstrating the presence of radiopaque substances in the gastrointestinal (GI) tract, such as vials or bags of heroin. The sensitivity of radiographs is only 85-90%.
A noncontrast computed tomography (CT) scan of the abdomen and pelvis has a higher sensitivity for foreign bodies in the GI tract than plain radiographs. CT scanning is also able to demonstrate lack of progression of the foreign body within the GI tract to help pinpoint the site of obstruction and the site of viscus perforation.
A CT scan of the brain is indicated in the presence of focal neurologic findings or when coma persists. A CT scan may reveal space-occupying lesions such as brain abscesses, intracerebral or extracerebral hematomas, and stroke.
Magnetic resonance imaging (MRI) of the brain is helpful in establishing the diagnosis of heroin-induced leukoencephalopathy. Findings include white-matter abnormalities in the cerebellum and posterior limb of the internal capsule.
---
Did this answer your question?
Additional feedback? (Optional)
Thank you for your feedback!