Answer
Coma, respiratory depression, and miosis are the hallmarks of opioid overdose. According to Hoffman and colleagues, the presence of these hallmarks (ie, coma, respiratory depression, miosis) has a 92% sensitivity and 76% specificity for heroin overdose. [23, 24]
The clinical presentation and depth of coma may be altered in patients with co-ingestions and in the presence of concomitant medical conditions such as hypoxia, trauma, hypoglycemia, and shock or with concomitant ingestion of other toxins such as amphetamines, cocaine, and anticholinergics. In these circumstances, patients may exhibit delirium, tachypnea, and mydriasis. Delirium may also be noted in overdoses with prescription narcotics such as dextromethorphan, meperidine, and codeine. Convulsions can occur with overdoses of meperidine, fentanyl, pentazocine, or propoxyphene.
Mild hypotension and mild bradycardia are commonly observed with heroin use. These are attributable to peripheral vasodilation, reduced peripheral resistance and histamine release, and inhibition of baroreceptor reflexes. In the setting of heroin poisoning, hypotension remains mild. The presence of severe hypotension should prompt a search for other causes of hypotension, such as hemorrhage, hypovolemia, sepsis, pulmonary emboli, and other causes of shock.
Respiratory depression, due to heroin's effect on the brain's respiratory centers, is a hallmark. However, the presence of tachypnea should prompt the search for complications of heroin use, such as pneumonia, acute lung injury, and pneumothorax, or an alternative diagnosis, such as shock, acidosis, or CNS injury. Tachypnea may also be seen in overdoses of pentazocine or meperidine.
Examination of the skin may also reveal patterns of heroin use such as track marks (shown in the image below), fresh puncture wounds, and "skin-popping" marks.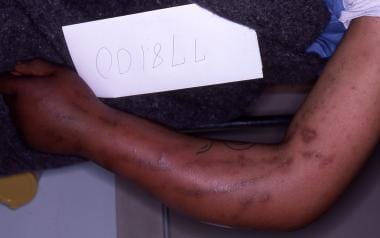 Track marks in a heroin intravenous drug user.
---
Did this answer your question?
Additional feedback? (Optional)
Thank you for your feedback!