Answer
The optimal method of rapidly cooling patients has been a matter of debate for some time. A 2013 guideline from the Wilderness Medical Society recommends ice-water immersion as a superior method for rapidly lowering core body temperature below the critical levels normally found in heat stroke patients. [1] However, each method has its own theoretical advantages and disadvantages.
Ice-water immersion or an equivalent method has the advantage of rapidly reducing core body temperature. Because of its high thermal conductivity, ice water can reduce core body temperature to less than 39°C in approximately 20-40 minutes.
The disadvantages of ice-water immersion include the fact that it may be extremely uncomfortable for patients who are awake. In addition, in theory it can cause subcutaneous vasoconstriction, preventing the transfer of heat via conduction. Ice water also increases shivering, which in turn increases internal heat production. Other criticisms include difficulty monitoring and resuscitating patients while using this method.
Evaporative heat loss, although perhaps less effective than immersion techniques, poses fewer practical difficulties. Evaporative body heat loss may be accomplished by removing all of the patient's clothes and intermittently spraying the patient's body with tepid water while a powerful fan blows across the body, allowing the heat to evaporate.
A number of other cooling techniques have been suggested, but none has proven superior to or equal to cold-water immersion or evaporative techniques. These include peritoneal, thoracic, rectal, and gastric lavage with ice water; cold intravenous fluids; cold humidified oxygen; cooling blankets; and wet towels.
Cardiopulmonary bypass has been suggested for use in the most severe cases. However, this requires highly trained personnel and sophisticated equipment.
See the images below.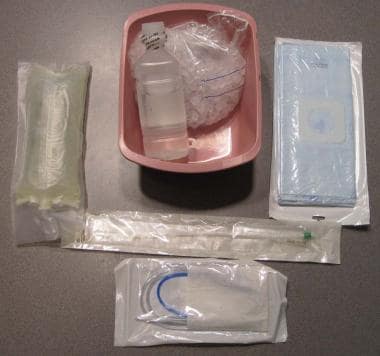 Sample display of equipment useful for noninvasive cooling techniques. Clockwise from top: ice pack and water, air-cooling blanket, Foley catheter, and intravenous fluids.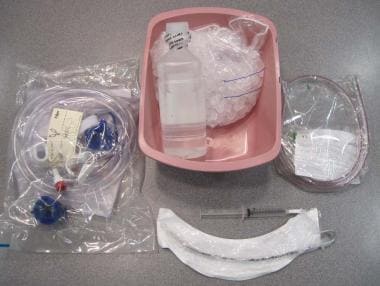 Sample display of equipment useful for cooling via gastric lavage. Clockwise from top: ice water, nasogastric tube, endotracheal tube, and lavage bag.
Sample display of equipment useful for cooling via peritoneal lavage. Clockwise from top: iced water, peritoneal catheter, and saline fluid.
---
Did this answer your question?
Additional feedback? (Optional)
Thank you for your feedback!