Answer
A thorough and complete neurologic and ophthalmoscopic (funduscopic) examination is essential in the evaluation of patients. On ophthalmoscopy, grade IV retinal changes are associated with hypertensive encephalopathy, [7] including papilledema, hemorrhage, exudates, and cotton-wool spots (see the images below). Although papilledema is usually considered a more severe finding, it actually does not confer worse survival than hemorrhages and exudates alone. [8]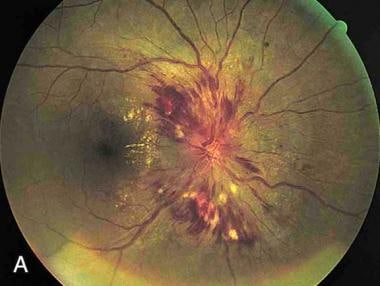 Papilledema. Note the swelling of the optic disc, with blurred margins.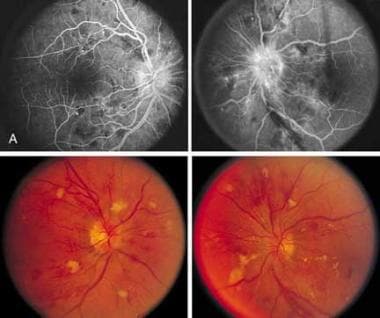 Hypertensive retinopathy. Note the flame-shaped hemorrhages, soft exudates, and early disc blurring.
Neurologic examination reveals transient and migratory neurologic nonfocal deficits ranging from nystagmus to weakness and an altered mental status ranging from confusion to coma.
---
Did this answer your question?
Additional feedback? (Optional)
Thank you for your feedback!