Answer
Answer
Myeloid sarcomas are associated with chromosomal abnormalities (55% of cases) seen in acute myeloid leukemia (AML), including monosomy 7, trisomy 8, KMT2A (MLL) rearrangement, inversion 16, trisomy 4, monosomy 16, 16q-, 5q-, 20q-, and trisomy 11. [7, 9] In a subset of cases, NPM1 mutations are identified and are frequently associated with myelomonocytic, monocytic or monoblastic differentiation. [6, 10, 11] The t(8;21)(q22;q22) abnormality is more frequently seen in pediatric cases. [7, 12]
Detection of these genetic abnormalities requires advanced ancillary diagnostic techniques, such as conventional cytogenetic analysis (karyotype), fluorescence in situ hybridization (FISH), and mutational analysis via next-generation sequencing (NGS) or single nucleotide polymorphism (SNP) array analysis to allow for identification of multiple genetic mutations that may impact prognosis or be targeted by specific therapies. [13] As with flow cytometry, fresh tissue may not be available for molecular and cytogenetic analyses if the diagnosis of myeloid sarcoma is initially unsuspected; therefore, cytogenetic analysis may be limited to FISH of paraffin-embedded tissue for recurrent genetic abnormalities in AML (see the image below). Most NGS or SNP array multigene panels can be performed on DNA extracted from fresh tissue or formalin-fixed, paraffin-embedded tissue.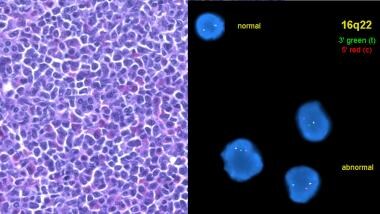 Myeloid Sarcoma Pathology. In the same example of myeloid sarcoma involving the salivary gland discussed in the previous two images, there is complete effacement of the underlying tissue architecture by a diffuse infiltrate of large cells with folded nuclei, vesicular chromatin, and moderately abundant pink cytoplasm (left, hematoxylin and eosin). Also present were numerous admixed mature eosinophils and eosinophil precursors (left, hematoxylin and eosin). As myeloid sarcoma was unsuspected at surgery, no fresh tissue of the salivary gland was sent for karyotyping. Establishing the specific World Health Organization (WHO) Classification in this case required directed fluorescence in situ hybridization (FISH) of paraffin-embedded tissue. Based on the morphologic finding of eosinophilia, a characteristic association of acute myeloid leukemia (AML) with inv(16), FISH with a dual-color breakapart probe for the CBFB locus at 16q22 revealed the presence of a rearrangement (right, abnormal cells with separate red and green signals), indicative of an underlying inv(16)(p13.1q22) or CBFB-MYH11 rearrangement.
A 2020 case series of 11 cases combined with a literature review of myeloid sarcoma with CBFB-MYH11 fusion (inv(16) or t(16;16)) indicates an apparent marked predilection for abdominal sites. [14] The investigators suggest features such as "the lack of obvious associated eosinophils, presence of pDC nodules, and lack of concurrent [bone marrow] involvement" indicate that "myeloid sarcoma with CBFB-MYH11 fusion may represent a unique phenomenon."
---
Did this answer your question?
Additional feedback? (Optional)
Thank you for your feedback!