Answer
Answer
Myeloid sarcomas have immunophenotypic features that are identical to acute myeloid leukemia (AML) (see Acute Myeloid Leukemia, Not Otherwise Specified (NOS)). Fresh tissue suspensions may be analyzed by flow cytometric analysis to aid in characterization. However, if the diagnosis of myeloid sarcoma is not suspected, then only formalin-fixed, paraffin-embedded tissue may be available.
Multiparameter flow cytometry and/or a battery of immunohistochemical stains are often employed, including markers of immaturity (CD34 and CD117 [KIT]), as well as markers to establish myeloid/granulocytic (myeloperoxidase [MPO], CD15, CD33) or monocytic (lysozyme, CD14, CD64, CD11c, CD68 [KP1 clone], CD163, PU.1) differentiation (see the following images). Tumours with an underlying NPM1 mutation will show expression of NPM1 by immunohistochemistry in both the nucleus and cytoplasm, reflective of the aberrant cytoplasmic localization of this protein conferred by the mutation. [6] Staining for CD45 (leukocyte common antigen), terminal deoxynucleotidyl transferase (TdT), CD43, CD56, and CD99 is variable and not lineage defining. Stains for B- and T-cell markers are typically performed to exclude non-Hodgkin lymphoma and lymphoblastic lymphoma, which mimic myeloid sarcoma morphologically.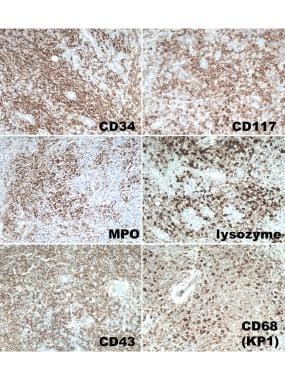 Myeloid Sarcoma Pathology. Immunohistochemistry performed on this myeloid sarcoma involving the salivary gland showed the large neoplastic cells to be diffusely positive for CD34 (upper left), CD117 (upper right), and CD43 (lower left), as well as variably positive for myeloperoxidase (MPO) (middle left), lysozyme (middle right), and CD68 (lower right), indicative of both myeloid and monocytic (ie, myelomonocytic) differentiation.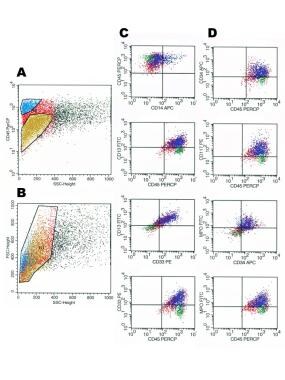 Myeloid Sarcoma Pathology. In the same case of myeloid sarcoma involving the salivary gland as in the previous image, flow cytometry of the salivary gland mass detected a population of CD45 dimly positive cells (A, gold population) with increased forward and side scatter by light scatter analysis (B, gold population), indicative of primitive blasts with large cell size. Further immunophenotypic analysis showed the blasts to be positive for the myeloid antigens CD13 and CD33 (C, blue population), markers of immaturity CD34 and CD117 (D, blue population), and myeloperoxidase (MPO) (D, blue population), with expression of the mature monocytic marker CD14 (C, blue population) seen in a small subset.
---
Did this answer your question?
Additional feedback? (Optional)
Thank you for your feedback!