Answer
Answer
The morphologic features of myeloid sarcoma are similar to those of the myeloid blasts comprising the various subtypes of acute myeloid leukemia (AML). Blasts generally have high nuclear-to-cytoplasmic ratios, fine chromatin, and occasionally prominent nucleoli (see the image below). Immunohistochemical stains are required to establish the diagnosis and determine lineage (see the section on Immunophenotypic Features and Methods).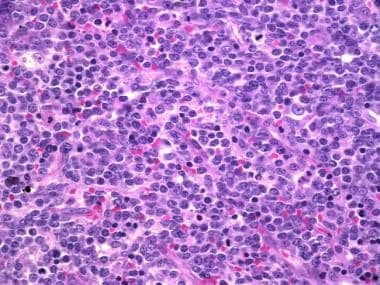 Myeloid Sarcoma Pathology. Granulocytic sarcoma (hematoxylin and eosin).
If unstained touch imprints of involved tissue are available, enzyme cytochemistry may also help delineate lineage and aid in subclassification. Cytochemical stains for myeloperoxidase (MPO), Sudan Black B, and chloroacetate esterase (CAE) are positive in cases with myeloid or granulocytic differentiation, whereas nonspecific esterase (NSE) (also known as α-naphthyl acetate esterase or α-naphthyl butyrate esterase) is positive in cases with monocytic or monoblastic differentiation (see the following image).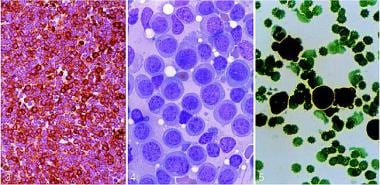 Myeloid Sarcoma Pathology. Monocytic/monoblastic sarcoma (left to right: lysozyme stain, Wright stain of touch preparation, and neuron-specific enolase [NSE] stain of touch preparation).
Erythroid sarcoma is relatively rare and displays sheets of primarily immature erythroid precursors (ie, pronormoblasts) (see the image below). It represents the extramedullary mass-forming equivalent of a diagnosis of pure erythroid leukemia (PEL) involving the bone marrow, and it is more often seen in the setting of blastic transformation of an underlying myeloproliferative neoplasm (MPN). [6] Immunohistochemical stains for E-cadherin or glycophorin are useful to establish erythroid differentiation.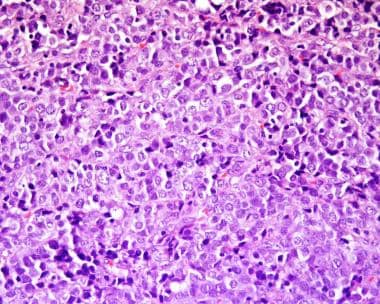 Myeloid Sarcoma Pathology. Erythroid sarcoma (hematoxylin and eosin).
---
Did this answer your question?
Additional feedback? (Optional)
Thank you for your feedback!