Answer
Answer
By flow cytometry, the blasts in acute myeloid leukemia (AML) with myelodysplasia-related changes (AML-MRC) show a myeloblast phenotype, with expression of blast markers (CD34, CD117) and myeloid markers such as CD13, CD33, and/or myeloperoxidase (MPO); aberrant expression of CD5, CD7, or CD56 may also be seen. The background granulocytes may also aberrantly overexpress CD33 and underexpress CD45, CD11b, and CD15 by flow cytometry. Similarly, lower expression levels of CD14, CD56, and CD45 may be seen on background monocytic populations in AML-MRC. [14] Rare cases of AML-MRC with mixed-lineage phenotype have been reported. [15]
Immunohistochemical staining of the bone marrow biopsy specimen may be especially helpful in cases with increased fibrosis and an inadequate aspirate specimen. In AML-MRC, CD34 and/or CD117 immunostains reveal numerous (>20%) blasts, which often form large clusters and sheets. In cases emerging from a preexisting myelodysplastic syndrome (MDS), these stains may also highlight increased blasts located away from the bony trabeculae (atypical localization of immature precursors [ALIP]) (see the image below).
A 2017 study indicated that when molecular genetic modalities are not available, immunohistochemistry for p53 expression may be useful for identifying cases of AML-MRC that are TP53 mutated, have complex karyotype, and have poor prognosis (see the following image). [16]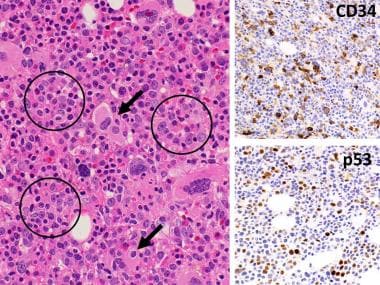 Pathology of Acute Myeloid Leukemia With Myelodysplasia-Related Changes (AML-MRC). A posttreatment bone marrow evaluation (left) shows a hypercellullar marrow (hematoxylin and eosin) with small dysplastic megakaryocytes containing hypolobated nuclei (arrows), as well as clusters of medium to large blasts (circles) with dispersed chromatin, and prominent nucleoli located away from the bony trabeculae (ie, atypical localization of immature precursors [ALIP]). Immunohistochemistry shows CD34+ blasts (upper right) and strong nuclear staining of scattered marrow elements for p53 (lower right), each comprising about 10% of overall cellularity. These findings are consistent with persistent [posttherapy AML-MRC with high p53 expression by immunohistochemistry. A TP53 mutation was confirmed on molecular genetic analysis performed concurrently.
---
Did this answer your question?
Additional feedback? (Optional)
Thank you for your feedback!