Answer
Third-degree AV block is electrocardiographically characterized by:
Regular P-P interval
Regular R-R interval
Lack of an apparent relationship between the P waves and QRS complexes
More P waves are present than QRS complexes
Note that not all patients with AV dissociation have complete heart block. For example, patients with ventricular tachycardia have AV dissociation, but not complete heart block; in this example, AV dissociation is due to the ventricular rate being faster than the intrinsic sinus rate. On electrocardiography (ECG), complete heart block is represented by QRS complexes being conducted at their own rate and totally independent of the P waves (see the image below).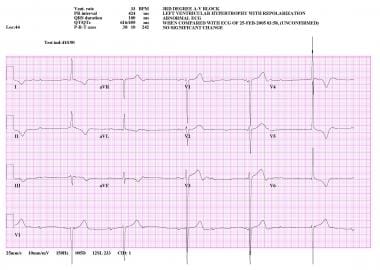 Electrocardiogram from patient in complete heart block.
---
Did this answer your question?
Additional feedback? (Optional)
Thank you for your feedback!