Answer
Intracoronary stents have been used widely since the early 1990s. Various stents are available, differing with respect to composition (eg, cobalt chromium or platinum chromium), architectural design, and delivery system (see the images below).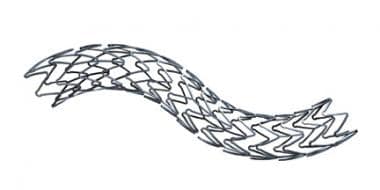 Percutaneous transluminal coronary angioplasty (PTCA). TRISTAR stent.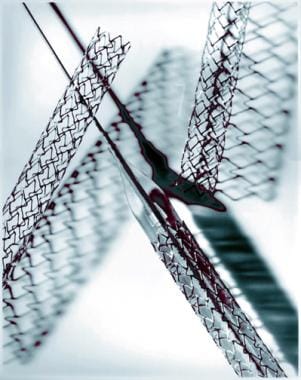 Percutaneous transluminal coronary angioplasty (PTCA). NIR stent.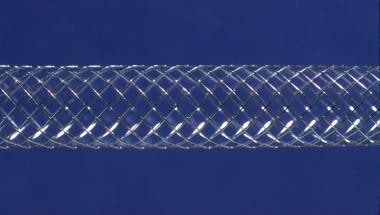 Percutaneous transluminal coronary angioplasty (PTCA). Wallstent.
Bare-metal coronary artery stents are used in PCI for a variety of indications, including stable and unstable angina, acute myocardial infarction (AMI), and multivessel coronary artery disease (CAD). Drug-eluting coronary artery stents have a stent framework with a polymer coating that elutes an antiproliferative drug into the coronary wall for weeks after stent implantation. They were developed to reduce restenosis (ie, recurrent narrowing) rates in stented coronary lesions.
The development of DESs revolutionized coronary intervention to the same degree that balloon angioplasty and bare-metal stents did in the 1980s and 1990s. The first-generation DESs were sirolimus-eluting (Cypher) and paclitaxel-eluting (Taxus) stents. The major clinical endpoint difference between BMSs and first-generation DESs was significantly lower rates of restenosis and target lesion revascularization with DESs.
The goals of further reducing the rate of restenosis and decreasing the frequency of stent thrombosis led to the evolution of second-generation DESs. Those currently used in the United States are either everolimus-eluting (Xience, Promus) or zotarolimus-eluting (Resolute).
DESs have been extensively tested in a wide spectrum of coronary lesions, all of which have demonstrated significant reductions in restenosis and target-lesion revascularization rates in comparison with BMSs or first-generation DESs. The zotarolimus-eluting stent and the everolimus-eluting stent have improved deliverability, thinner struts, and a thinner polymer layer, and they may have clinical advantages over sirolimus-eluting and paclitaxel-eluting stents. [62, 63]
A meta-analysis of 28 randomized, controlled clinical trials involving more than 34,000 patient-years of follow-up indicated that in comparison with BMSs, newer-generation DESs, particularly the everolimus-eluting stent, significantly reduced the risk of target vessel revascularization in patients with ST-segment elevation MI (STEMI) without increasing the risk of adverse safety outcomes, including rates of stent thrombosis. [64]
Currently, DESs have more favorable outcomes than BMSs do, primarily because of significantly lower target vessel revascularization. Therefore, DESs are preferred to BMSs in most PCI settings, including chronic total occlusion (CTO) recanalization, saphenous vein graft (SVG) PCI, bifurcation PCI, aorto-ostial lesions, calcified lesions, PCI in diabetic patients, and PCI in patients with cardiac allograft vasculopathy.
BMSs are recommended for use in patients who have a high bleeding risk, are unable to comply with 1 year of dual antiplatelet therapy, have very large arteries, or are likely to undergo invasive or surgical procedures in the next year.
Although stents are conventionally placed after balloon predilation, a meta-analysis by Piscione et al suggests that in selected coronary lesions, direct stenting may lead to better outcomes. [65] MI rates were lower with direct stenting than with conventional stenting (3.16% vs 4.04%), whereas rates of target vessel revascularization were comparable.
Metallic stents (including both BMSs and DESs) have a low but definite rate of very late adverse events, such as stent thrombosis (0.2-0.6% annually) and restenosis. These late events are partly attributable to the persistence of the polymer and the metallic frame in the vessel. Therefore, the current investigational focus is on developing metallic DESs with bioabsorbable polymers, polymer-free metallic DESs, and bioresorbable scaffolds. Two such stents have been approved by the US Food and Drug Administration and are available for commercial use.
The SYNERGY (Boston Scientific, Marlborough, MA) is an everolimus-eluting platinum chromium stent with an abluminal coating of bioabsorbable polymer. This polymer, poly DL-lactide-co-glycolide (PLGA), is mixed with everolimus (the same drug used in the Promus Element DES made by Boston Scientific). In-vivo studies showed that the polymer degradation is essentially complete by 4 months, leaving just the metal stent behind (in contrast to conventional DESs, in which both metal and polymer are permanent). This polymer is believed to play at least a partial role in late stent thrombosis.
The EVOLVE II was a prospective multicenter randomized, controlled, single-blind non-inferiority study (N = 1684) that compared the SYNERGY stent with the Promus Element stent. The primary end point, target lesion failure (TLF), was defined as ischemia-driven revascularization of the target lesion, MI related to the target vessel, or cardiac death at 12 months. The SYNERGY stent was noninferior to the Promus Element stent for TLF (6.7% vs 6.5%; P = 0.0005) in the intention-to-treat population. There were no significant differences in the secondary end points of stent thrombosis (0.4% vs 0.6%; P = 0.50), death (1.1% vs 1.1%; P = 0.95), MI (5.4% vs 5.0%; P = 0.68) or TLR (2.6% vs 1.7%; P = 0.50). [66]
The 2-year results presented at the American College of Cardiology's scientific session in 2016 showed numerically lower definite/probable stent thrombosis with the SYNERGY stent as compared with the Promus Element stent. Long-term data will help determine whether complete degradation of the polymer truly reduces the incidence of very late stent thrombosis.
The Absorb GT1 Bioresorbable Vascular Scaffold (BVS) System (Abbott Vascular, Abbott Park, IL) releases everolimus to limit the growth of scar tissue, but unlike the contemporary metallic stents, it gradually (in ~3 years) dissolves. That is, the scaffold and the polymer are both bioresorbable, leaving behind only the platinum markers at the scaffold edge for fluoroscopic landmarking. The Absorb GT1 is the first BVS stent to receive FDA approval, and it offers a new treatment option for patients who are candidates for PCI but prefer an absorbable device to a permanent metallic stent.
ABSORB III was a multicenter randomized trial of 2008 patients who were randomized to receive either the Absorb or an everolimus-eluting cobalt chromium stent (Xience; Abbott Vascular). [67] At 1 year, the Absorb stent was noninferior for TLF (cardiac death, target vessel MI or ischemia driven target-lesion revascularization). Device thrombosis was more common with the Absorb stent (1.5% vs 0.7%; P = 0.13) and in this study was attributed to a higher rate of in-device postprocedural residual stenosis as a consequence of greater strut thickness or recoil. This is an area of great interest, and future generations will have thinner struts.
---
Did this answer your question?
Additional feedback? (Optional)
Thank you for your feedback!