Answer
Atherectomy devices were developed to permit drilling, grinding, or sanding of atheroma, calcium, and excess cellular material from the site of a coronary occlusion or stenosis. Both mechanical and laser-based approaches are used.
The rotational atherectomy catheter (Rotablator) is designed for the removal of plaque from coronary arteries. This device (see the image below), which has a diamond-studded burr at its tip, rotates at about 160,000 revolutions per minute (rpm) and is particularly well suited for ablation of calcific or fibrotic plaque material.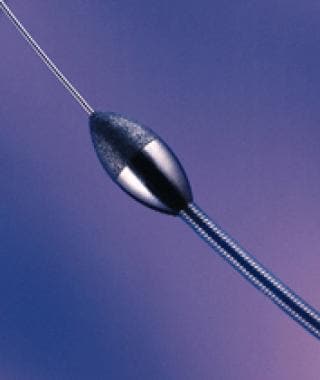 Percutaneous transluminal coronary angioplasty (PTCA). Rotational atherectomy catheter (Rotablator) is designed for removal of plaque from coronary arteries. This device has diamond-studded burr at its tip, rotates at about 160,000 rpm, and is particularly well suited for ablation of calcific or fibrotic plaque material.
Unlike other atherectomy devices that rely on tissue cutting, the rotational atherectomy device relies on plaque abrasion and pulverization. Rotational atherectomy is successful in 92-97% of these cases, with a low incidence of major complications. It causes dislodgment of particles into the microcirculation, which occasionally may lead to infarction and no-reflow (impaired distal coronary flow). Currently, the use of rotational atherectomy is largely confined to fibrotic or heavily calcified lesions that can be wired but not crossed or dilated by a balloon catheter.
The ERBAC (Excimer Laser, Rotational Atherectomy, and Balloon Angioplasty Comparison) Study showed that rotational atherectomy was associated with a higher short-term success rate than balloon angioplasty (90% vs 80%) was but that rates of major ischemic complications and repeat revascularization were higher 6 months after treatment (46% vs 37%). [58]
A meta-analysis failed to show any significant differences in mortality, major adverse cardiovascular events (MACE), or revascularization rates in patients treated with rotational atherectomy, laser, or cutting balloon angioplasty in comparison with balloon angioplasty alone. [59] In some cases, rotational atherectomy was actually associated with an increase in periprocedural myocardial infarction (MI).
However, none of these trials compared stent-related outcomes. In fact, many of these devices may be used to facilitate stent delivery in complex lesions, especially when balloon angioplasty alone has failed.
Beginning in 1987, directional coronary atherectomy (DCA) was used to debulk coronary plaques. In this procedure, a steel fenestrated cage housing a cup-shaped blade is positioned against the coronary lesion by a low-pressure positioning balloon, allowing any protruding plaque to be removed.
Complications (eg, distal embolization of plaque, transient side-branch occlusion, coronary vasospasm, the no-reflow phenomenon, non–Q-wave MI) are more frequent with DCA than with balloon angioplasty. Because of the increased complication rates and the greater technical demands of DCA as compared with balloon angioplasty or stenting, the use of DCAs has greatly decreased in recent years.
A 2006 meta-analysis demonstrated that DCA was superior to stenting alone with regard to acute angiographic results and target-lesion revascularization, with a similar prevalence of late MACE. There was, however, a higher prevalence of early MACE with DCA before stenting, which was probably related to distal embolization. [60]
Although the development of laser atherectomy generated considerable initial excitement, the procedure is not widely used at present, because of the technical demands imposed by the device and the lack of any clear improvements in outcome versus other devices.
Orbital atherectomy has only come into clinical use relatively recently. Orbital atherectomy utilizes an eccentrically mounted "crown" that is diamond-coated and rotates at speeds ranging from 60,000 to 200,000 rpm. Unlike the rotational atherectomy device, the orbital atherectomy crown is eccentric in shape and therefore has an elliptical orbit rather than spinning concentrically on the wire.
The ORBIT (Evaluate the Safety and Efficacy of OAS in Treating Severely Calcified Coronary Lesions) II trial was a prospective single-arm multicenter study designed to evaluate orbital atherectomy for vessel preparation before stent implantation in severely calcified lesions. [61] A total of 443 patients were enrolled, and the median follow-up was 25.1 months. The 2-year outcomes were reported as follows:
MACE, 19.4%

Death, 7.5%

Cardiac death, 4.3%

Target vessel revascularization, 8.1%

Target lesion revascularization (TLR), 6.2%
These rates were lower than those previously reported with alternative strategies. However, they once again highlighted detrimental effects of severe calcium in coronary revascularization. As expected, the TLR rate was threefold higher with bare-metal stents (BMSs) than with drug eluting stents (DESs), making the use of a DES more attractive in these circumstances. [61]
---
Did this answer your question?
Additional feedback? (Optional)
Thank you for your feedback!