Answer
Answer
Fuhrman system grade 2
Using the 10× objective, the nuclei of the tumor cells are slightly larger (15 µm) with finely granular "open" chromatin but small, inconspicuous nucleoli (see the following image). The nucleoli are often present, and many appear as small chromocenters at 10× objective, with confirmation of their nature at higher power, but this does not count.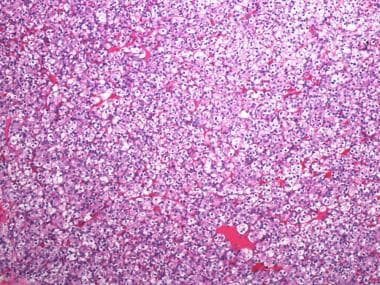 Pathology grading of renal cell carcinoma. Renal cell carcinoma, clear cell type, Fuhrman grade 2/4.
---
Did this answer your question?
Additional feedback? (Optional)
Thank you for your feedback!