Answer
Answer
Squamous cell carcinoma may occur at multiple areas in the bladder, but the lateral wall and trigone are the most common sites. [32, 33] On cystoscopy, the tumor appears nodular and has a plaquelike, irregular surface. There is deep invasion into the muscularis and often involvement of the extravesical organs (see image below). Most of the tumors are large, exophytic, and necrotic, and they bulge into the bladder cavity. [1, 5]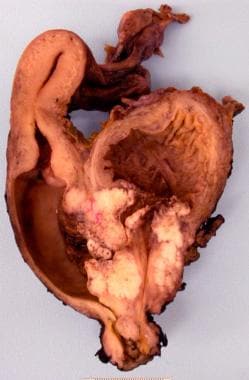 Pathology of of urinary bladder squamous cell carcinoma. This image shows a cross-section through the bladder, uterus, and vagina with squamous cell carcinoma of the bladder infiltrating through the bladder wall into the vaginal wall.
Less commonly, these tumors may be flat, with irregular borders. [13] Surface necrosis and keratin debris are usually present, which give it a flaky whitish appearance.
---
Did this answer your question?
Additional feedback? (Optional)
Thank you for your feedback!