Answer
Answer
The majority of Xp11.2 tumors are either negative or only focally positive for epithelial markers such as cytokeratin cocktail, cytokeratin CAM5.2, cytokeratin 7, and epithelial membrane antigen. These tumors are also generally positive for the renal cell carcinoma (RCC) immunostain. [1, 2, 3, 10, 13, 14] Rare carcinomas have been reported to be positive for Melan A and HMB45, as these tumors are considered part of the family of microphthalmia transcription factors. [2]
An immunostain for aberrant nuclear overexpression of the TFE3 gene product has been developed. Although early studies reported a specificity and sensitivity of 97.5% and 99.6%, respectively, later studies reported a slightly lower sensitivity (82-87.5%). [1, 17] This variation in sensitivity is likely due in part to differing antibody incubation times. Generally, strong nuclear expression is considered characteristic of translocation-associated RCC (see the image below); weak nuclear expression may represent full-length transcription factor E3 (TFE3) protein rather than a chimeric fusion protein resulting from translocation. [18]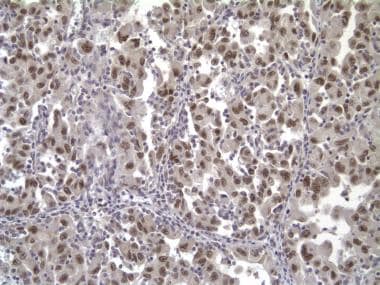 Xp11.2 translocation-associated renal cell carcinomas typically exhibit strong nuclear positivity for the transcription factor E3 (TFE3) protein. Image courtesy of University of Michigan.
A study by Kim et al suggested that break-apart fluorescence in situ hybridization (FISH) assay testing can serve as a complementary modality in confirming the diagnosis of Xp11.2 RCC. [19]
Transcription factor EB (TFEB) RCCs are characteristically negative for cytokeratins but are positive, at least focally, for HMB45 and Melan A. Focal positivity for CD10 has also been reported. Tumors are negative for microphthalmia-associated transcription factor (MiTF) and RCC. Nuclear overexpression of the TFEB gene product is thought to be a relatively sensitive and specific surrogate for t(6;11), similar to TFE3 immunostaining in Xp11.2 RCC. [2]
It has been shown that translocation-association carcinomas of the MiTF/TFE family also immunologically express cathepsin-K, which may be useful as a surrogate marker for these tumors. [20]
---
Did this answer your question?
Additional feedback? (Optional)
Thank you for your feedback!