Answer
Answer
Stromal tumors arising from the specialized stroma of the prostate are uncommon proliferations with several histologic patterns. [1, 2] The term stromal tumors of uncertain malignant potential (STUMP) was coined to describe a proliferation of stromal cells that is behaviorally and histologically distinct from benign hyperplasia and whose behavior cannot be predicted by its histologic appearance (see the images below). [3, 4, 5]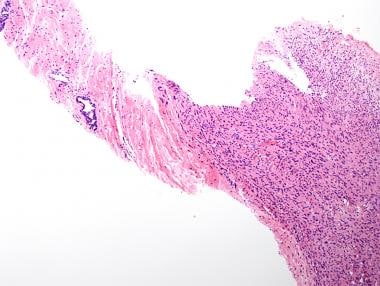 Low-power magnification of prostate core biopsy showing stromal tumor of uncertain malignant potential at right and sharp demarcation from benign prostatic tissue. Note increased cellularity and hyperchromasia of nuclei and haphazard arrangement of cells.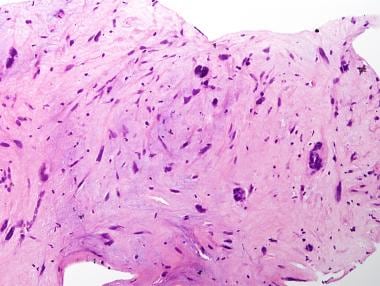 High magnification of stromal tumor of uncertain malignant potential showing myxoid stroma and degenerative cells.
The neoplastic nature of these proliferations remains controversial, with arguments favoring these lesions to be hyperplastic or pseudosarcomatous processes existing to date. [6, 7, 8, 9] On the opposite spectrum of malignancy, true stromal sarcomas represent the malignant counterpart of lesions arising in the specialized stroma and are not discussed in this article.
Although the phyllodes pattern of proliferation has been included with STUMP by some authors, phyllodes tumors of the prostate will not be discussed in this article because of certain histologic differences. [10] The occasional coexistence of STUMP with stromal sarcomas (or progression from STUMP to sarcomas) and the few reported cases that have shown recurrence make the term STUMP acceptable. [3, 11, 12, 10, 13]
---
Did this answer your question?
Additional feedback? (Optional)
Thank you for your feedback!