Answer
Answer
The left main coronary artery is variable in length, 11 mm ± 5 mm. [70] If intervention in the left coronary artery system is a possibility, it may be helpful to report the length of the left main artery. The left main coronary artery will usually bifurcate into the LAD and the left circumflex artery. In approximately 30% of cases, the left main artery will trifurcate, with a ramus intermedius artery between the LAD and circumflex. The ramus intermedius artery will supply a lateral wall territory between the first diagonal and the first obtuse marginal branch territories.
Rarely, the left main coronary artery will be absent and the LAD and circumflex artery will arise directly from the aorta.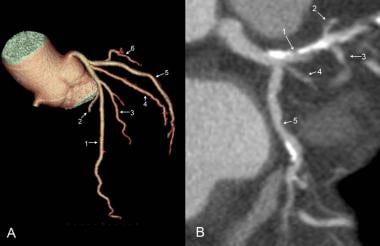 Left coronary arteries: Volume-rendered (A) and multiplanar reconstruction (MPR) (B) CT images in 2 patients demonstrate the left anterior descending (LAD) artery (1), first septal perforator (2), first diagonal (3), ramus intermedius (4), circumflex artery (5), and first obtuse marginal (6).
---
Did this answer your question?
Additional feedback? (Optional)
Thank you for your feedback!