Answer
Answer
According to appropriateness criteria published in 2010 from 9 specialty societies, the use of coronary computed tomography (CT) angiography (CCTA) in patients to evaluate bypass graft patency in patients with chest pain syndrome was rated as appropriate, and it was rated as inappropriate in asymptomatic patients less than 5 years after surgery, and it was rated uncertain in asymptomatic patients more than 5 years after surgery. [1] See the images below.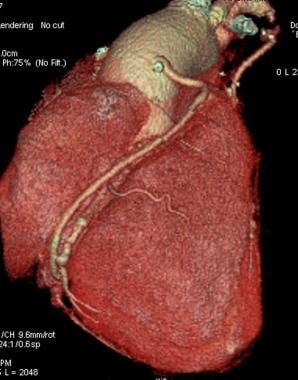 Saphenous vein graft: Volume-rendered CT image of a saphenous vein graft to the right coronary artery.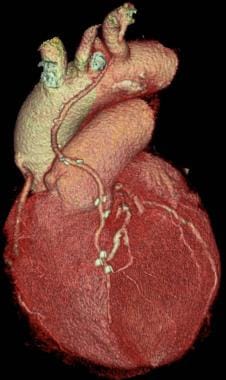 Left internal mammary artery (LIMA) graft: Volume-rendered CT image of a LIMA to left anterior descending (LAD) artery graft.
In a 2007 consensus statement from the Society of Cardiovascular Computed Tomography and the North American Society for Cardiac Imaging, stress nuclear testing or echocardiography was suggested as the first method of evaluation rather than CCTA, as the question of graft patency is not as important as the functional significance of the grafts and bypass vessels. CCTA was suggested for reoperation bypass mapping of the previous bypass grafts, the setting of aortic dissection, difficult catheterization, or high risk of catheterization (eg, Marfan syndrome). [34]
---
Did this answer your question?
Additional feedback? (Optional)
Thank you for your feedback!