Answer
Answer
In appropriateness criteria published in 2010 from 9 specialty societies, [1] the use of coronary computed tomography (CT) angiography (CCTA) in patients with a history of percutaneous revascularization with stents of 3 mm or greater and chest pain syndrome was rated as uncertain, and it was rated as appropriate in asymptomatic patients. A 2010 consensus statement [28] states that in patients known to have larger stents and whose clinical presentation suggests low-to-intermediate probability for restenosis, 64-slice CCTA may be a reasonable alternative to invasive angiography to rule out significant in-stent restenosis. See the image below.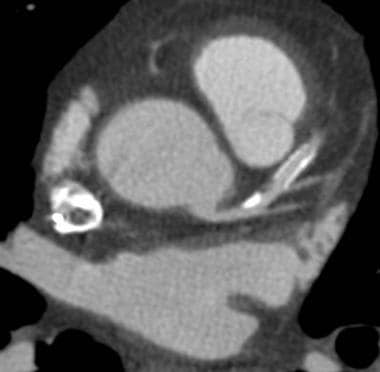 Coronary artery stent: Axial CT image demonstrates a left anterior descending (LAD) artery stent. The stent lumen is well-visualized in this case.
---
Did this answer your question?
Additional feedback? (Optional)
Thank you for your feedback!