Answer
The classic ECG morphology of WPW syndrome is described as a shortened PR interval (often <120 ms) and a slurring and slow rise of the initial upstroke of the QRS complex (delta wave; see the image below), a widened QRS complex with a total duration greater than 0.12 seconds, and secondary repolarization changes reflected as ST segment–T wave changes that are generally directed opposite the major delta wave and QRS complex. In reality, the ECG morphology varies widely.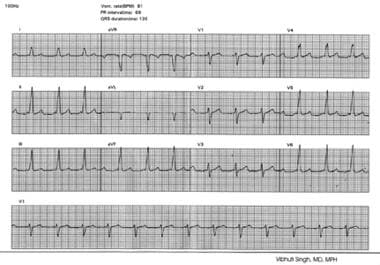 12-lead electrocardiogram showing short PR interval and delta waves consistent with presence of accessory pathway.
---
Did this answer your question?
Additional feedback? (Optional)
Thank you for your feedback!