Answer
The term "Mahaim fibers" refers to atriofascicular bypass tracts that connect the right atrium to the distal right bundle (see the image below). These pathways usually represent a duplication of the AV node and the distal conducting system. They typically occupy the right ventricular free wall. Their proximal end resides adjacent to the lateral tricuspid annulus and exhibits slow conduction, with AV node–like characteristics. The distal end, which conducts rapidly, inserts into the distal right bundle branch or the apical region of the right ventricle.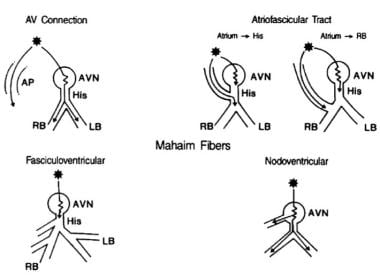 Variants of Wolff-Parkinson-White syndrome (unusual accessory pathways).
---
Did this answer your question?
Additional feedback? (Optional)
Thank you for your feedback!