Answer
In 1930, Wolff, Parkinson, and White described a series of young patients who experienced paroxysms of tachycardia and had characteristic abnormalities on electrocardiography (ECG). [1] Currently, Wolff-Parkinson-White (WPW) syndrome is defined as a congenital condition involving abnormal conductive cardiac tissue between the atria and the ventricles that provides a pathway for a reentrant tachycardia circuit, in association with supraventricular tachycardia (SVT). See the image below for a typical "preexcited" ECG.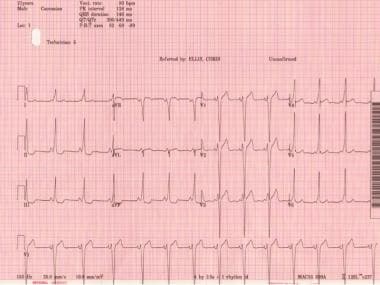 Classic Wolff-Parkinson-White electrocardiogram with short PR, QRS >120 ms, and delta wave.
---
Did this answer your question?
Additional feedback? (Optional)
Thank you for your feedback!