Answer
The image below demonstrates a tachycardia with a 1:1 atrial-to-ventricular ratio. It is not immediately clear whether the atria are driving the ventricles (sinus tachycardia) or the ventricles are driving the atria (VT).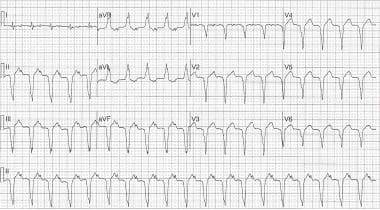 This electrocardiogram is from a 32-year-old woman with recent-onset heart failure and syncope.
In this case, a diagnosis of sinus tachycardia would require the presence of severe conduction disease manifesting as marked first-degree AV block with left bundle-branch block. However, close inspection shows that the actual diagnosis is VT, as indicated by absence of RS complexes in the precordial leads, a QS pattern in lead V6, and an R wave in lead aVR. The patient proved to have an incessant VT associated with dilated cardiomyopathy.
---
Did this answer your question?
Additional feedback? (Optional)
Thank you for your feedback!