Answer
Long QT syndrome (LQTS) is a congenital disorder characterized by a prolongation of the QT interval on electrocardiograms (ECGs) and a propensity to ventricular tachyarrhythmias, which may lead to syncope, cardiac arrest, or sudden death. See the image below.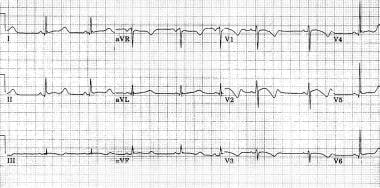 Marked prolongation of QT interval in a 15-year-old male adolescent with long QT syndrome (LQTS) (R-R = 1.00 s, QT interval = 0.56 s, QT interval corrected for heart rate [QTc] = 0.56 s). Abnormal morphology of repolarization can be observed in almost every lead (ie, peaked T waves, bowing ST segment). Bradycardia is a common feature in patients with LQTS.
See 7 Can't-Miss Life-Threatening ECG Findings, a Critical Images slideshow, to help recognize the conditions shown in various tracings.
---
Did this answer your question?
Additional feedback? (Optional)
Thank you for your feedback!