Answer
After the mesh is in place, the previously created peritoneal flap is lifted with graspers and tacked (or sutured) to the abdominal wall. To avoid injury to important structures, the same anatomic landmarks as in mesh placement and fixation are used (see the image below).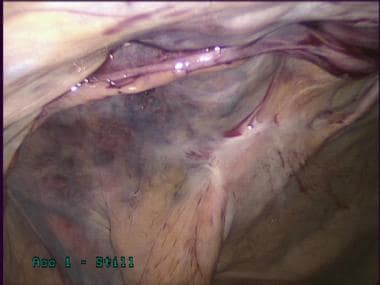 Laparoscopic inguinal hernia repair: TAPP. Closure of peritoneum over inserted mesh; this may be done with sutures or tacks.
Closure of the peritoneum with titanium tacks has been a common practice, but many surgeons are switching to absorbable tacks. Starting laterally, the peritoneal flap is tacked with the bimanual technique of exerting external pressure on the abdominal wall to confirm that the fixation device is placed at a right angle (see the video below). The peritoneum can also be repaired with sutures, but this requires expertise in laparoscopic suturing.
Laparoscopic inguinal hernia repair: TAPP. Tacking of peritoneum.
After peritoneal closure, the ports are removed under direct vision, and the fascial defect at the 11-mm port is closed with a 0 polyglactin suture, either laparoscopically or by means of an open technique. In the laparoscopic approach, the fascial defect at the 11-mm port can be closed by using a suture passer under direct laparoscopic vision. All skin incisions are then closed with 4-0 poliglecaprone subcuticular sutures and the dressing of choice.
---
Did this answer your question?
Additional feedback? (Optional)
Thank you for your feedback!