Answer
A 10-mm longitudinal or a curvilinear infraumbilical skin incision is made, and then deepened to separate the subcutaneous fat and expose the anterior rectus sheath. [56]
Next, a longitudinal incision is made in the anterior rectus sheath slightly off the midline over the body of the rectus abdominis (thus avoiding entering the peritoneal space in the midline, where the anterior and posterior rectus sheaths merge). [56, 57, 13] The midline raphe is grasped with a Kelly clamp, and the underlying rectus muscle fibers are retracted laterally, revealing the glistening white surface of the posterior rectus sheath.
With the posterior rectus sheath as a guide, a dissecting balloon is introduced and slipped along the rectus sheath (see the video below). The balloon is advanced past the arcuate line and into the preperitoneal space, down to the pubic symphysis. The dissecting balloon is then inflated under direct laparoscopic vision (ie, with the scope in the lumen of the balloon) to dissect the preperitoneal space. [56, 57, 13, 95]
Laparoscopic inguinal hernia repair: TEP. Balloon dissection.
Instead of pumping the dissecting balloon to a preset number of pumps (30-40, according to manufacturer recommendations), it may be preferable to pump under direct vision until no further movement of the tissues is visible, indicating no benefit from further dissection.
Once adequate dissection is attained, the dissecting balloon is deflated and removed. The patient is then placed in the reverse Trendelenburg position, and the preperitoneal space is insufflated with carbon dioxide to a pressure of 12 mm Hg.
A 10-mm 30° laparoscope is introduced through the umbilical port, [56, 57, 13] and a visual inspection is performed. When the preperitoneal space is properly accessed, the undersurface of the rectus muscles should be visualized at the top of the operative field. Two additional ports are placed in the midline between the umbilicus and pubis: a 5-mm trocar, placed two fingerbreadths cephalad to the pubic symphysis, and a 5- or 11-mm trocar, placed at the midway point between the lower port and the camera port (see the image below).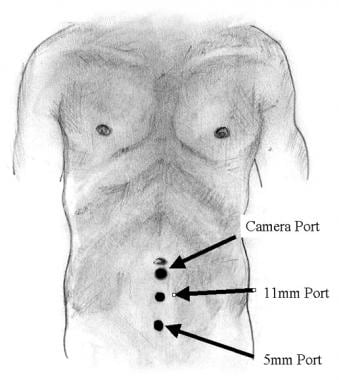 Laparoscopic inguinal hernia repair: TEP. Trocar placement.
---
Did this answer your question?
Additional feedback? (Optional)
Thank you for your feedback!