Answer
Spermatic cord layers are closed with fine sutures, with care taken to avoid damaging the cord contents. Hemostasis is ensured in the inguinal canal, which is then closed by suturing the two flaps of the external oblique aponeurosis (see the images below), with care taken not to injure the underlying ilioinguinal nerve. Suturing is started laterally and continued medially, where an adequate opening is left at the newly created superficial inguinal ring so as not to occlude the emerging spermatic cord.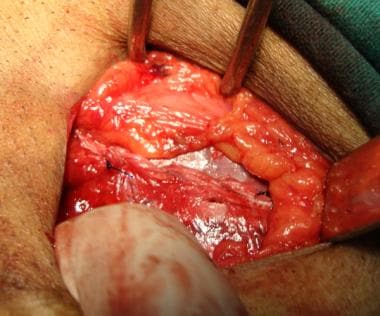 Open inguinal hernia repair. External oblique aponeurosis sutured with 2-0 polypropylene.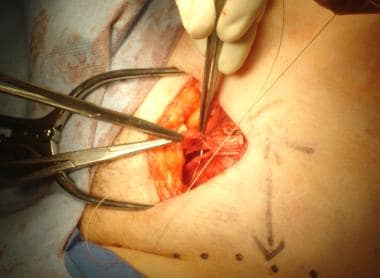 Open inguinal hernia repair. Closure of external oblique aponeurosis.
Subcutaneous tissue is approximated with interrupted sutures to obliterate any dead space, and the skin is approximated with sutures, clips, or adhesive strips (see the images below). A subcuticular continuous stitch with 3-0 absorbable sutures obviates any need for stitch or clip removal and provides better cosmetic results.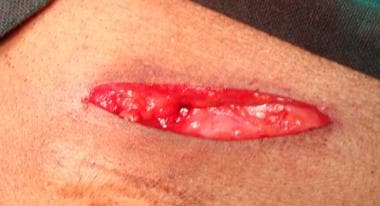 Open inguinal hernia repair. Subcutaneous tissue approximated with 3-0 plain catgut.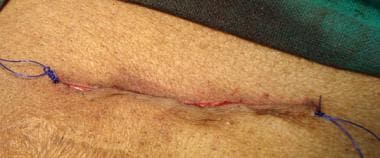 Open inguinal hernia repair. Skin approximated with 2-0 polypropylene subcuticular suture.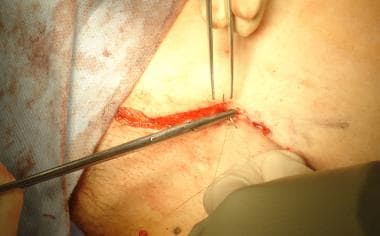 Open inguinal hernia repair. Skin closure.
The operative site is cleaned and a sterile dressing applied. Local infiltration of a long-acting anesthetic agent (eg, bupivacaine or ropivacaine) into the subcutaneous tissue around the incision provides good immediate postoperative pain relief.
---
Did this answer your question?
Additional feedback? (Optional)
Thank you for your feedback!