Answer
The ilioinguinal nerve runs medially through the inguinal canal along with the cord structures traveling from the internal ring to the external ring. It innervates the upper and medial parts of the thigh, the anterior scrotum, and the base of the penis.
The iliohypogastric nerve runs below the external oblique aponeurosis but cranial to the spermatic cord, then perforates the external oblique aponeurosis cranial to the superficial ring. It innervates the skin above the pubis.
The genital branch of the genitofemoral nerve lies within the spermatic cord and travels with the cremasteric vessels through the inguinal canal. It innervates the cremaster muscle and provides sensory innervation to the scrotum.
Some variations in the anatomic distribution of these nerves may be observed—for instance, the occasional absence of an ilioinguinal nerve. [18]
The Hesselbach triangle is bounded by the inguinal ligament below, the lateral border of the rectus abdominis medially, and the inferior epigastric vessels laterally (see the image below). The sac of a direct hernia lies in this triangle, whereas the neck of an indirect hernia sac lies outside the triangle (lateral to the inferior epigastric vessels).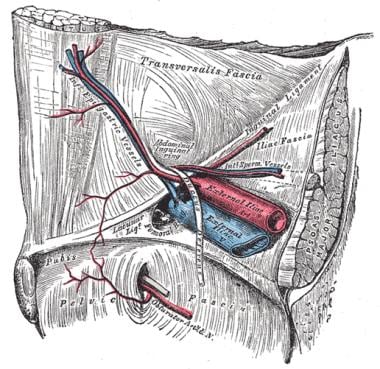 Hesselbach triangle. Image courtesy of Wikimedia Commons.
---
Did this answer your question?
Additional feedback? (Optional)
Thank you for your feedback!