Answer
The first layers encountered upon dissection through the subcutaneous tissues are the Camper and Scarpa fasciae. Contained in this space are the superficial branches of the femoral vessels—namely, the superficial circumflex and the epigastric and external pudendal arteries, which can be safely ligated and divided when encountered.
The inguinal canal can be visualized as a tunnel traveling from lateral to medial in an oblique fashion (see the image below). It has a roof facing anteriorly, a floor facing posteriorly, a superior (cranial) wall, and an inferior (caudal) wall. The canal contents (in men, cord structures; in women, the round ligament) are the traffic that traverses the tunnel.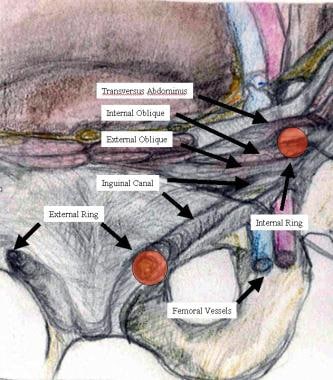 Anatomy of inguinal canal.
The external oblique aponeurosis serves as the roof of the inguinal canal and opens just lateral to and above the pubic tubercle. This is the external or superficial inguinal ring, which allows the cord structures egress from the inguinal canal to the scrotum. [15]
The floor of the canal is composed of the transversus abdominis and the transversalis fascia. The entrance to the inguinal canal is through these layers, and this entrance constitutes the internal or deep inguinal ring.
The inferior wall is the inguinal (Poupart) ligament. This ligament is formed by the lower edge of the external oblique aponeurosis and extends from the anterior superior iliac spine to its attachments at the pubic tubercle and fans out to form the lacunar (Gimbernat) ligament. [16, 17] The inguinal ligament folds over itself to form the shelving edge. This folded-over sling of external oblique aponeurosis is the true lower wall of the inguinal canal.
The superior wall consists of a union of the internal oblique muscle and the transversus abdominis aponeurosis, which arches from its attachment at the lateral segment of the inguinal ligament over the internal inguinal ring, ending medially at the rectus sheath and coming together inferomedially to insert on the pubic tubercle, thus forming the conjoined tendon. [17, 8]
---
Did this answer your question?
Additional feedback? (Optional)
Thank you for your feedback!