Answer
ECG should be performed on any patient with a complaint of chest pain if noncardiac causes cannot be diagnosed by other means, including physical examination. It may be helpful to perform ECG both while the pain is present and after the pain has resolved. The ECG changes seen in Wellens syndrome typically are manifested when the patient is pain-free but usually occur in the context of recent anginal chest pain.
In Wellens syndrome, the ECG pattern shows significant involvement of the T wave, with minimal ST-segment alteration. The ST segments themselves are usually isoelectric, but if they are abnormal, there will be less than 1 mm of elevation, with a high takeoff of the ST segment from the QRS complex. The characteristic ECG changes of this syndrome occur in the T-wave and occur in 2 forms.
The more common of the 2 forms, which occurs 76% of the time, is deep inversion of the T-wave segment in the precordial leads (see the images below). [6] The ST segment will be straight or concave and will pass into a deep negative T wave at an angle of 60°-90°. The T wave is symmetric. In Wellens syndrome, these changes generally occur in leads V1 -V4 but occasionally may also involve V5 and V6. V1 is involved in approximately 66% of patients, and V4 is involved nearly 75% of the time. [7]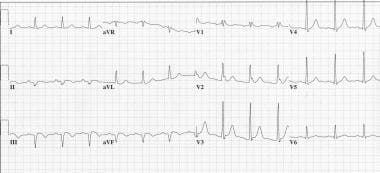 This ECG represents a patient who came in to the emergency department with 8/10 chest pain. The patient had old right bundle-branch block (RBBB) and left ventricular hypertrophy (LVH), and this compared similarly to his previous ECGs.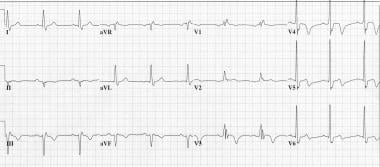 Classic Wellens syndrome T-wave changes. ECG was repeated on a patient who came in to the emergency department with 8/10 chest pain after becoming pain free secondary to medications. Notice the deep T waves in V3-V5 and slight biphasic T wave in V6 in this chest pain– free ECG. The patient had negative cardiac enzyme levels and later had a stent placed in the proximal left anterior descending (LAD) artery.
The less common of the 2 forms of Wellens syndrome, which occurs in 24% of patients, consists of biphasic T waves (see the images below), most commonly in leads V2 and V3 but also, on occasion, in leads V1 through V5 or even V6. [5]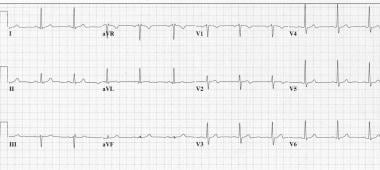 A 57-year-old with 4/10 pressurelike chest pain. Improvement with treatment by EMS. The patient had this ECG on arrival. Notice perhaps the beginning of a small biphasic T wave in V2.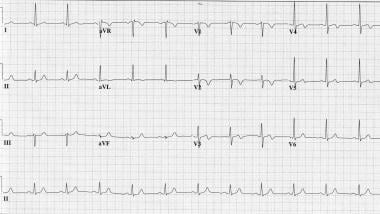 Pain-free ECG of a 57-year-old patient who presented with 4/10 pressurelike chest pain. Notice after the patient was treated with medications and pain subsided, the ECG shows T-wave inversion in V2 and biphasic T waves in V3-V5. This more closely resembles the less common presentation of Wellens syndrome with a biphasic T-wave pattern. This patient had a cardiac catheterization that showed a subtotal occlusion of the proximal left anterior descending (LAD) artery, which was stented, and the patient did well.
The characteristic pattern classically presents only during chest pain–free periods. Noticing this pattern is crucial because it is a sign of LAD disease. This association underscores the importance of serial ECGs and a pain-free ECG on patients with unstable angina. Because the LAD supplies the anterior myocardium, failure to recognize this pattern can result in anterior wall myocardial infarction (MI), significant left ventricular dysfunction, or death.
Reperfusion of the posterior wall following posterior MI leads to a larger T-wave amplitude in the right precordial leads and an even higher T-wave amplitude in leads V2 and V3. [8]
---
Did this answer your question?
Additional feedback? (Optional)
Thank you for your feedback!