Answer
A line of conduction block is required to interrupt the circuit (see the image below). Postablation pacing maneuvers can confirm that the substrate required for the circuit has been modified.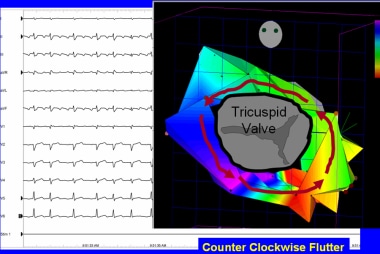 Typical counterclockwise atrial flutter. This 3-dimensional electroanatomic map of a tricuspid valve and right atrium shows the activation pattern displayed in color format. Red is early and blue is late, relative to a fixed point in time. Activation travels in counterclockwise direction.
---
Did this answer your question?
Additional feedback? (Optional)
Thank you for your feedback!