Answer
In the common form of typical atrial flutter, the electrocardiogram (ECG) shows sawtooth flutter (F) waves. Flutter waves are often visualized best in leads II, III, aVF, or V1 (see the image below). The flutter waves for typical atrial flutter are inverted (negative) in leads II, III, and aVF, negative in V6, and generally positive in V1 because of a counterclockwise reentrant pathway. [11] Sometimes, they are upright (positive) when the reentrant loop is clockwise. Flutter waves (particularly 2:1) can deform the ST complex in such a manner as to mimic an ischemic injury pattern on the 12-lead ECG, and often results in erroneous interpretations on computer-based ECG diagnosis.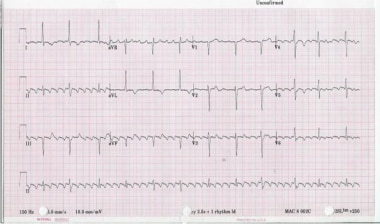 A 12-Lead electrocardiogram of typical atrial flutter. Note the negative sawtooth pattern of the flutter waves in leads II, III, and aVF.
---
Did this answer your question?
Additional feedback? (Optional)
Thank you for your feedback!